Food fights are not new but they are getting bigger. We recently posted about La Tomatina, the tomato throwing celebration near Madrid, Spain. Never would I have imagined that a number of USA communities now host their own version called Tomato Battle. Thousands of people pay big money to be part of a huge food fight. Seattle, Washington and Pleasanton, California will host their own versions of the famous La Tomatina this fall.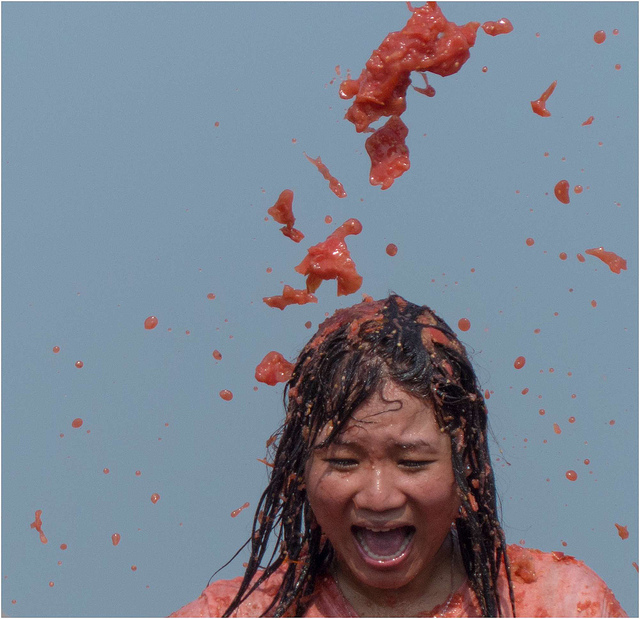 What is Tomato Battle?
Imagine 300,000 pounds of over ripe tomatoes being hurled by up to 5000 participants in somewhat organized chaos. If you have not seen the 60's movie Animal House recently then take a look below at their famous food fight. Today, organizers charge $49.99 for these giant food fights attended by thousands of fun loving adults. These are big money events involving beer, music, dancing, and food.
Tomato Battle Seattle at Pyramid Alehouse August 16, 2014
The Pyramid Alehouse at 1201 1st Avenue in downtown Seattle, Washington is hosting this years Tomato Battle Seattle for the fourth time on August 16th. Activities start at noon with music, games, and a costume contest. The big Tomato battle begins at 4:00 pm. Sorry only those 21 and older can attend. We can't have children seeing adults acting like children can we.
Tomato Battle Norcal at Alameda County Fair Grounds September 20, 2014
The famed Alameda County Fairgrounds is the setting for the Tomato Battle Norcal on September 20th. Similar to Seattle however children and parents with waivers can attend. The food fight again happens at 4:00 pm.
Now I found it interesting that they need an abundance of over ripe tomatoes to hold these events. We can not have people destroying real food when people are starving around the world. So they use over ripe product. If there isn't enough they have an alternate plan. They will hold a huge mud battle instead. Hopefully the California drought will be over by September.
These one day festivals are becoming more common. There have been tomato fights in Brooklyn, Los Angeles, Chicago, Portland, Colorado Springs, and Dallas. These are just wild enough they might be something to put on your personal Bucket List.
Top Hollywood Food Fights Video:
As promised here is the video of that famous Animal House food fight with John Belushi. Also notice the very young Kevin Bacon.
Funtober keeps looking for more fun things to do this fall. As we countdown to Halloween we are not only 89 days away. Also did you know we are only 46 days away from the start of Oktoberfest (Munich).