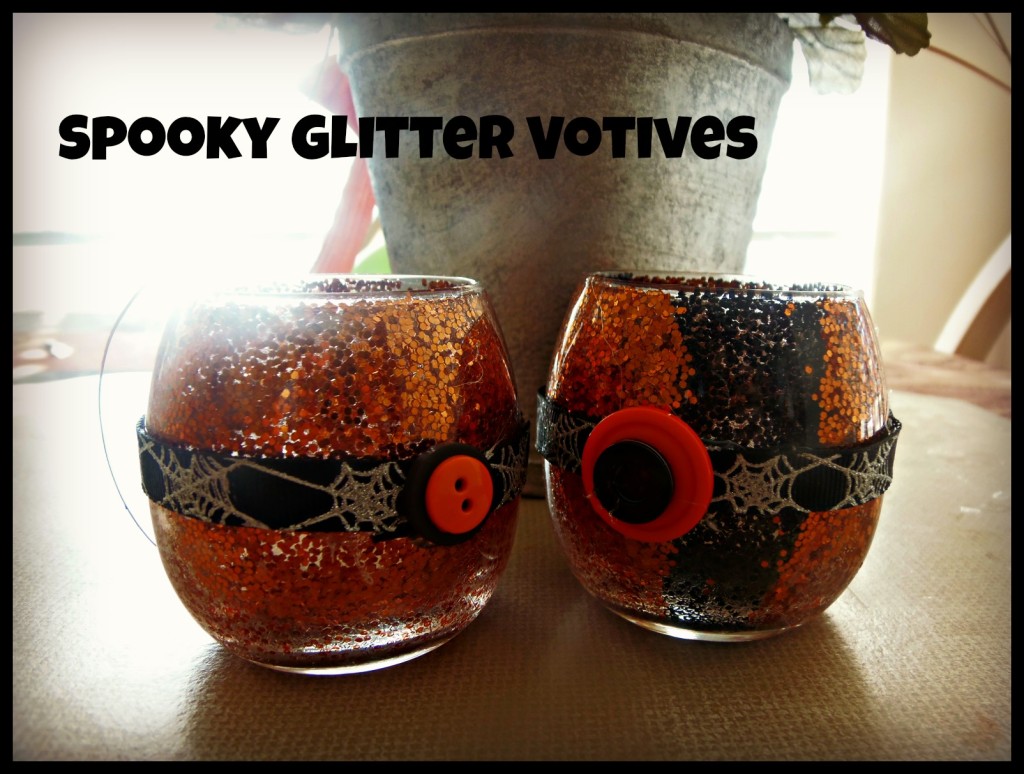 Can a house have too much orange and black decor this time of year? I doubt it.
Around these parts, we love candles.
They're cozy. They're festive. And when you take a quick trip to the craft store, customizing them for whatever occasion you fancy is pretty easy. I had most of this on hand and had a few extra buttons in the sewing box that fell into the orange and black theme.
The best part of this project? It's incredibly inexpensive. The total cost didn't go over $4, and now I have extra glitter for more Funtober goodness!
Supplies:
Small glass votive holders
Mod Podge
Glitter
Glue gun/glue sticks
Decorative Ribbon
Buttons
 Directions:
These are so simple to make I almost feel guilty.
I started by removing those remarkably stubborn and remarkably annoying price stickers from the candle holders. (Did you know that baby wipes are a crafter's secret when it comes to removing glued on bits of paper from glass? It's true. And now you're in on the big secret, too!)
You have a choice here when it comes to your set up. You can put the glitter on the inside or the outside of the glass. I went for the inside because I wasn't looking forward to vacuuming glitter for the next six weeks. When you choose to put the glitter inside the glass, however, I recommend you use a battery-operated LED votives. Real flame votives might be a fire hazard.
I didn't have much of a theme in mind for the first glass. I coated the entire inside with the Mod Podge and went crazy with the orange glitter. It was fun. I'd recommend shaking glitter around as a form of stress relief to anybody!
With the first one down, I got creative and painted a stripe in the center of the inside glass. I added black glitter and let it dry. I followed up with Mod Podge on either side of the black stripe and shook in orange glitter. Voila! A masterpiece!
To make it extra fancy, I fired up the glue gun and added a ribbon around the outside and secured it into place. To hide the glued-down ribbon flap (the scientific name for that annoying bump in your decor) I glued on a button or two.
The patterns and ribbon/button combinations are endless and can vary depending on what you have on hand.
Happy Funtober!