It is time to dust off your dirndl and grab a beer and brat! Saturday September 19th, 2015 marks the start of the 181st Munich Oktoberfest. More than six million will drink and party at the Theresienwiese over the next three weeks.
If you can't make it to Germany for Oktoberfest, we understand. Over the next eight weeks, more than 500 events in the United States (at least one in every state!) will celebrate German culture and heritage in the spirit of the original Oktoberfest from 1810 when Crown Prince Ludwig of Bavaria married Princess Therese of Saxony-Hildburghausen in Munich. And there will be drinking too!
Who has the best Oktoberfest in the United States?
Here are the ten most liked Oktoberfest Facebook pages for festivals in America: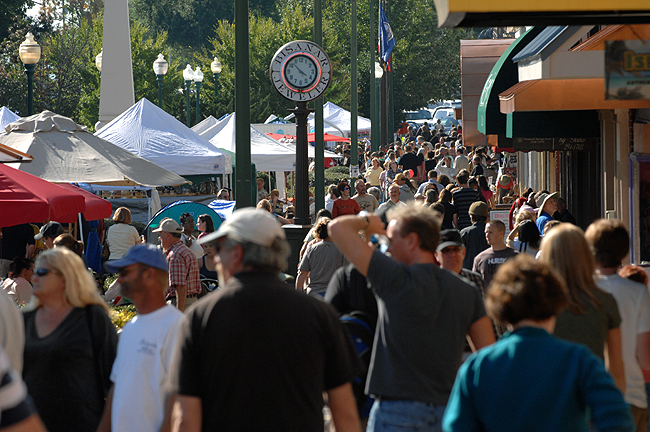 10. Hickory Oktoberfest – Hickory, North Carolina – October 9-11, 2015. The Hickory Downtown Development Association hosts this three day outdoor festival located around Union Square in downtown Hickory. More than 100,000 will enjoy the event with two beer gardens (Coors and Beck's are sponsors) and four stages of live music. It is a family friendly event with amusement rides, carnival games, and KidFest area that has rides, games and activities for children. Participate in the Ninth Annual Carolina Orthopaedic Oktoberfest Footrace on Saturday (5K run/walk or 10K run) to benefit four Hospices in Alexander, Burke, Caldwell and Catawba Counties. Or exhibit your crafts in the juried arts and crafts show. If you go, be sure to bring a canned good for the 15th annual Castle of Cans Food Drive. 5600 people like the Hickory Oktoberfest Facebook page.
9. Oktoberfest Zinzinnati – Cincinnati, Ohio – September 18-20, 2015
This Cincinnati Oktoberfest, started in 1976, is the largest in the United States with over 500,000 visitors expected in 2015. Six blocks of Fifth Street from Vine to Sentinel in downtown Cincinnati are closed for the weekend. It's the first year that the Oktoberfest celebration will be open on Friday evening. Beer will be available from Beck's, Budweiser, Christian Moerlein, Erdinger, Hofbrauhaus, Hudepohl, Miller, Rivertown, Samuel Adams, Warsteiner and Yuengling. Other highlights of the 2015 festival include the Running of the Wieners and the World's Largest Chicken Dance led by George Takei of Star Trek. Don't miss the Samuel Adams Stein Hoisting Championship and the sixth annual World Bratwurst Eating Contest either! 5900 people like the Oktoberfest Zinzinnati Facebook page.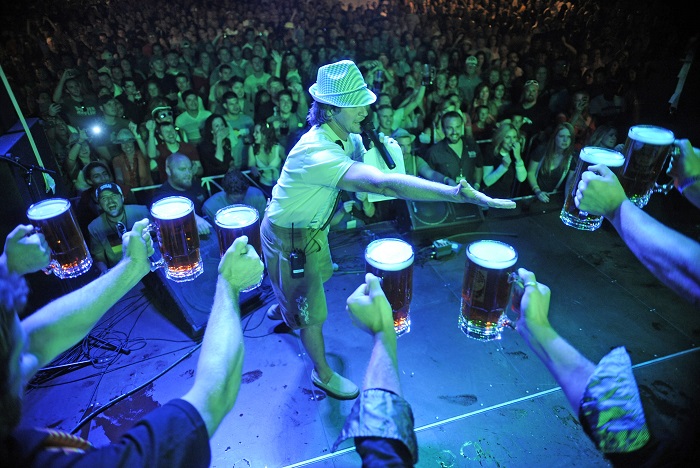 8. Denver Oktoberfest – Denver, Colorado – Sept 18-20 & 25-27, 2015
Larimer Street in Denver's Historic Ballpark Neighborhood is transformed for two weekends as more than 250,000 visit this 44th annual celebration of German culture in Colorado. It started back in 1969 when Fred and Hertha who owned Cafe Promenade decided to tap a keg and serve pretzels outside their cafe. 2015 entertainment includes beer (sponsored by Coors and Samuel Adams) and two stages of live music. There are lots of contests to enjoy over the two weekends with stein hoisting, long dog derby, keg bowling national championship, Dashustlehoff 5K, bratwurst eating contest, and a costume contest. 6900 like the Oktoberfest Denver Facebook page.
[itthinx-lazyload]

[/itthinx-lazyload]
Alpine Village Oktoberfest – Los Angeles, CA – September 11 – October 31, 2015.
Southern California has been celebrating Oktoberfest at Alpine Village for 48 years. USA Today named it one of the best Oktoberfests in the world. It is held on seven weekends in September and October in a 32,000 square foot tent. Located in Torrance, it is the most popular Los Angeles Oktoberfest. Tables are on a first come first served basis – there are no reservations. In 2015, it will be open Fridays and Saturdays from September 11th to October 31st and Sundays from September 21st. It's 21+ on Friday and Saturday but all ages are welcome on Sunday. Tickets are between $5 and $20 depending on day. Kids 12 and under as well as those dressed in dirndls or lederhosen get in free on Sundays. Location: 833 West Torrance Blvd, Torrance, CA 90502. Facebook page.
[itthinx-lazyload]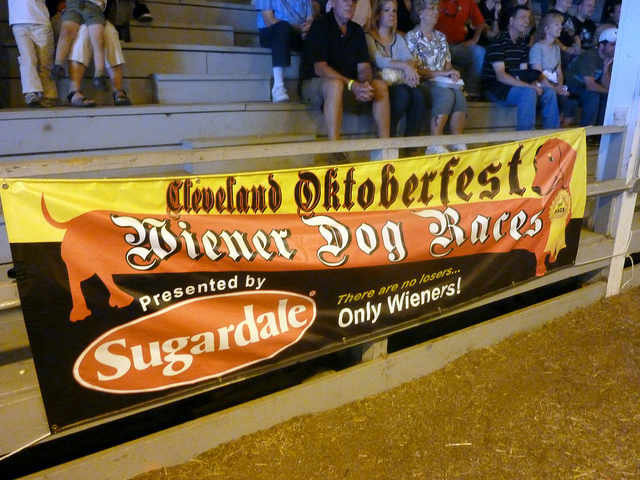 [/itthinx-lazyload]
6. Cleveland Oktoberfest – Cleveland, Ohio – Labor Day Weekend (Photo Credit)
This Cleveland Ohio Oktoberfest happens annually over Labor Day weekend September 4th-7th, 2015. They are celebrating their 11th anniversary in 2015. Paulaner and Hacker-Pschorr beer will be served in addition to several other beers in the International Beer Garden Free parking with the option for paid VIP parking. Celebrity keg tapping. Oktoberfest Microbrew Competition and wiener dog races. Glockenspiel routines on the hour. The finals of the Miss Oktoberfest contest and the masskrugstemmen (one arm stein holding) contest. 5K Beer Run on September 1st. Vendors in the Bavarian Shopping Village will offer for sale beer steins, German merchandise and other items. Children's activity area includes inflatables, hay rides, arts & crafts, sand castle building, gingerbread house classes and The Frisch Marionette Company (a puppet show that has been featured in People Magazine and on Showtime). Admission to the festival is $10 per person with children under 12 receiving free admission. Location: Cuyahoga County Fairgrounds, 164 Eastland Rd Berea, OH 44017. More than 8200 people like the Cleveland Oktoberfest Facebook page.
[itthinx-lazyload]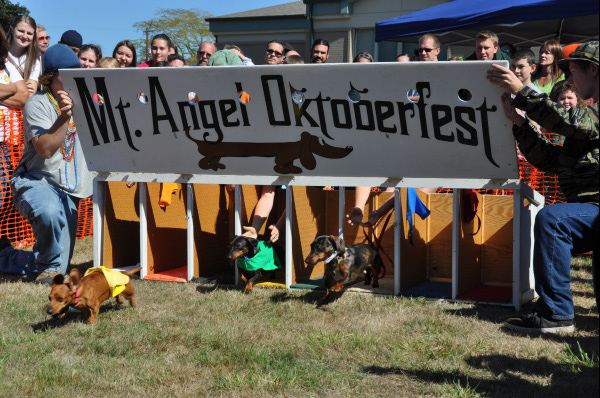 [/itthinx-lazyload]
5. Mount Angel Oktoberfest – Mount Angel, Oregon – September 17-20, 2015
This Oregon Oktoberfest has a traditional biergarten, weingarten and alpinegarten as well as over 50 Alpine food chalets. Live music on four stages with over 30 musical groups performing. Large arts & crafts show as well as the Cruz-n Car Show. Kindergarten with free rides and shows. Glockenspiel plays 4 times a day and there's dancing in the streets on Friday and Saturday night. There's also a golf tournament, volleyball tournament, 10K run and 5K run/walk. Location: 5 Garfield St, Mount Angel, OR. More than 8900 people like the Mount Angel Oktoberfest Facebook page.
[itthinx-lazyload]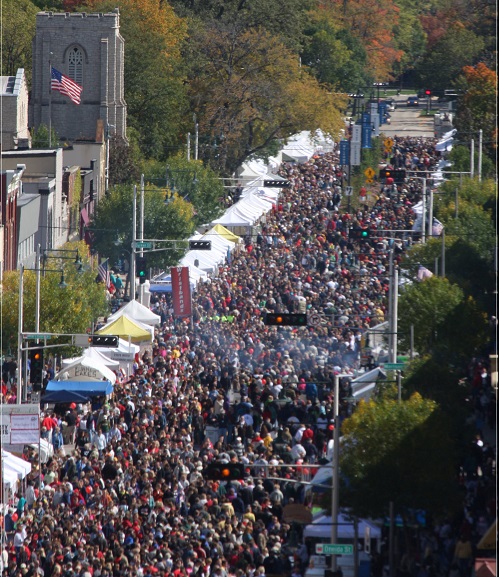 [/itthinx-lazyload]
4. Appleton Oktoberfest – Appleton, Wisconsin – September 25-26, 2015
Started in 1981, it's now a mile of fun on College Avenue from Richmond to Lawes Street at this Wisconsin Oktoberfest near Green Bay. They will have more than 100 food vendors and five stages of live music with local and national bands. Friday night includes a classic car show called the License to Cruise. There are also more than 180 arts & crafts vendors and a family fun area with kid-friendly activities and entertainment. More than 9200 people like Appleton's Oktoberfest Facebook page.
[itthinx-lazyload]
[/itthinx-lazyload]
3. Leavenworth Oktoberfest – Leavenworth, Washington – October 2-3, 9-10, and 16-17, 2015
Leavenworth, located two hours east of Seattle, is Washington State's Bavarian village. More than one million annually visit this town that transformed its appearance in the 1960s from its logging origins. The Oktoberfest, started in 1998, is the first three weekends in October. More than 35,000 are expected at this festival named Best Family Fun/Street Fair by Evening Magazines 2013 The Best Northwest Escapes Viewers Poll. Four stages of live entertainment and music along with a large selection of imported German beer. More than 16,000 people like the Leavenworth Oktoberfest Facebook page.
[itthinx-lazyload]
[/itthinx-lazyload]
2. Oktoberfest USA – La Crosse, Wisconsin – October 1-4, 2015 (Photo Credit)
The first Oktoberfest in La Crosse was held in 1961 and it is now a favorite on lists of the best Oktoberfest in the United States. Beer sponsors include Bud, Coors, Kul, Leinenkugel's, Miller and Pabst. There is also a craft beer night with beer from more than 40 different breweries. Other 2015 activities include the Miss La Crosse/Oktoberfest competition, Festmaster's Ball, parades, contests, and even a mud run. More than 17,000 people like the La Crosse Oktoberfest Facebook page.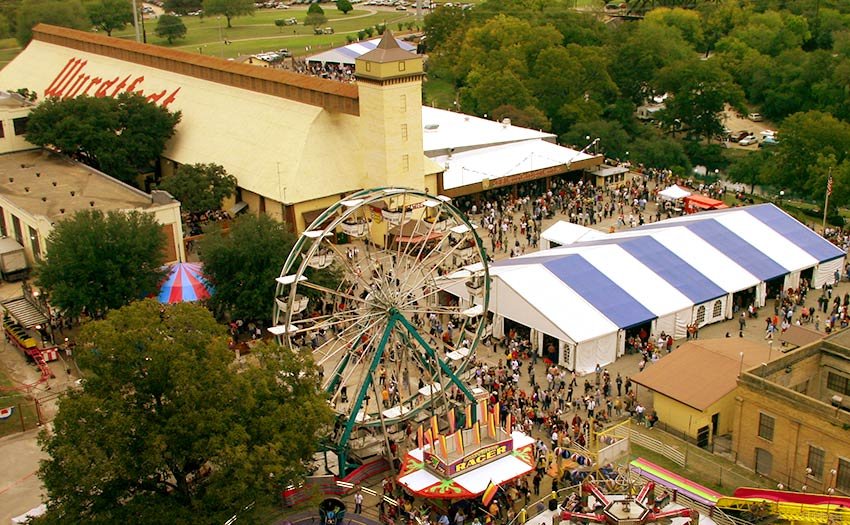 1. Wurstfest – New Braunfels, Texas – November 6-15, 2015
If Munich can push Oktoberfest forward into September, then I guess we can push Oktoberfest back into November to include this popular German Sausage festival. It started in 1961 with a one day sausage festival that 2,000 people attended. It is now ten day celebration of German culture attended by more than 100,000 that was rated the third best festival in Texas. There will be live music, Bavarian entertainment and dancing with more than 40 local, national, and international performers. You will definitely enjoy the German food and beer as well as carnival rides and games. More than 22,000 people like the Wurstfest Facebook page.
Ready to start drinking?
Here is our list of more than 500 paces to celebrate Oktoberfest in the United States so that you can find a German festival near you this weekend. Prost!
Other Best Oktoberfest Lists
We aren't the first to create a list of the best American Oktoberfest festivals. Here are five from the past ten years that we think you'll enjoy:
Best Oktoberfests in the U.S. – ABC News (2012)
5 Authentic Oktoberfest Celebrations in the U.S. – Nerd Wallet (2012)
Top 10 American Oktoberfest Destinations – Ask Men (2011)
10 Great Places to Celebrate Oktoberfest – USA Today (2010)
Top Oktoberfests across the United States – Orbitz (2008).
Errors are of course our own. We used PageData to confirm our analysis.
PS: It's the last day of A Haunted Halloween Giveaway Hop hosted by Mommy's Favorite Things and Mama's Baby Cupcakes. On Labor Day, 22 bloggers launched giveaways of Halloween-related items worth more than $25. As part of the Halloween hop, we are giving away some cool Halloween decorations. This is the last day of the giveaway so be sure to enter now!