This fall take the short drive over to central New Jersey for a full weekend of free live Jazz performances in 3 different venues. September 12-14, 2014 is the date for the annual Central Jersey Jazz Fest. This is one of the featured events on the Funtober Fall New Jersey Festivals page.
Enjoy performances by the Bernie Worrel Orchestra, the Ravi Coltrane Quartet, the T.S. Monk Sextet, and many more.
Friday's event takes place 6:00 pm to 10:00 pm in downtown Flemington, New Jersey at 75 Main Street. Saturday's event is at Monument Square in downtown New Brunswick from 1:00 pm to 6:00 pm. Sunday's event is on the Somerset County Court House Green (corner of E. Main and Grove Streets) in Somerville from 1:00 pm to 6:00 pm.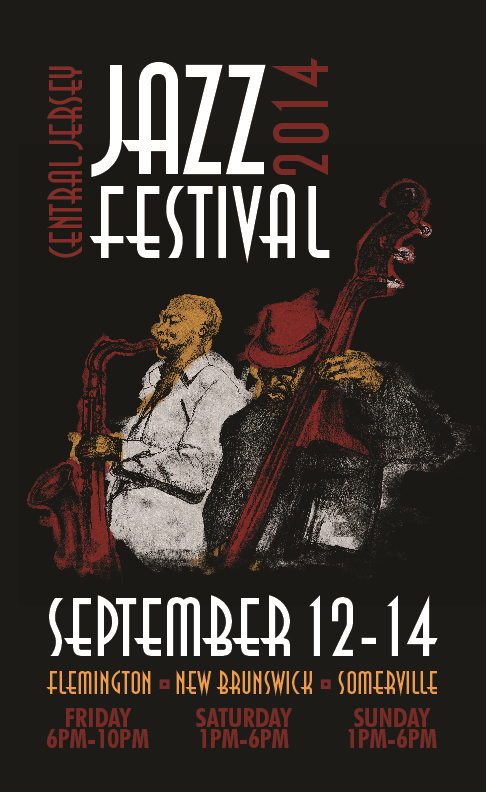 Friday's event in Flemington brings 25 local artists and artisans together with 6 local restaurants for a wonderful art, food, and music event. There is a big music stage at the Flemington Court House Steps, a festival food court, and a beer garden. Enjoy local micro-brews and wines. At 6:00 the Emily Asher's Garden Party kicks things off. The Winard Harper Sextet takes the stage at 7:00 pm. Warren Vache and Harry Allen perform at 8:00 pm. Finally at 9:00 pm the Bernie Worrell Orchestra headlines the evening.
Saturday's event in New Brunswick is all about the on stage music and local restaurants. The Josh Evans Sextet takes the stage at 1:00 pm. The New Brunswick District Jazz Band plays for a half hour at 2:15 pm before the Jazzmeia Horn Quintet takes the stage. The Ravi Coltrane Quartet closes out the afternoon beginning at 4:30 pm.
Sunday's event in Somerville features both festival foods on site and fabulous local restaurants. Also a beer and wine garden at the Verve Restaurant is adjacent to the Somerset County Courthouse Green. Over 30 local craftsman and artists will present a mixture of prints, photography, cards, woodwork, drawings, sculpture, ceramics, and more.
Sunday's jazz music starts with Emmet Cohen on stage at 1:00 pm. The Jazz House Kids will perform short sets between featured performers. Brianna Thomas takes the main stage at 2:20 pm. Houston Person performs from 3:40 pm to 4:40 pm. Finally the T.S. Monk Sextet headlines the afternoon performances beginning at 5:00 pm.
When the Jazz Fest ends the after party spills out onto Division Street for continued fun at the local restaurants.
You are encouraged to bring blankets and chairs to both the Saturday and Sunday events. Even picnic baskets are welcome (without alcohol). Enjoy the afternoon and listen to wonderful Jazz music. In the event of light rain they can move any of the three days events under cover.
Check out this You Tube video:
Video performance from last years Central Jersey Jazz Festival.
Images courtesy of Central Jersey Jazz Festival and Flickr [felipe bascunan]