Playing at State Fairs this year are Carrie Underwood, Keith Urban, and Lady Antebellum who are some of our biggest music stars.  Also Darius Rucker, Kid Rock, Toby Keith, ZZ Top, and a host of other music favorites hit the fairs this fall.  When was the last time you went to your local State Fair?  These are some of the biggest festivals.  Now these are more than livestock shows, petting zoos, or rodeos.  Find a complete list of this fall's state fairs and links for ticket information.  Today even the biggest star musicians play concerts at state fairs across the country.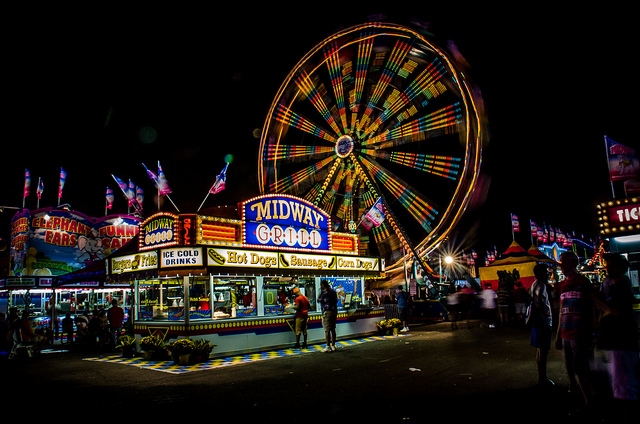 Most state fairs have crowds between 500,000 up to about 1.5 million visitors.  The Texas State Fair is by far the largest with over 2.5 million in annual attendance.  Music at most fairs is one of the biggest attractions.  The big stars have concerts that sell separate event tickets.  All fairs have some type of free music entertainment.  Of course you can find farm style fun, pig races, rodeos, and beauty pageants.  The states also have large carnival rides, carnival games, and midways operated by some of the best carnival companies in the business.  Anyone want some cotton candy, candy apples, or a hot dog?
Big Stars Play At State Fair Concerts This Fall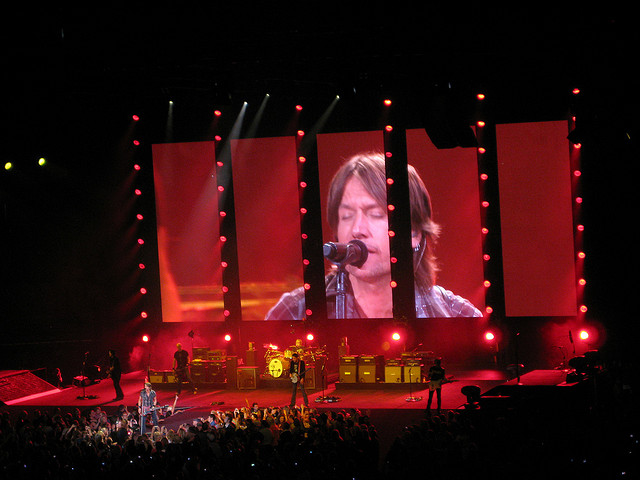 A few states avoid the big names for different types of fun events.  The biggest draw for the Tennessee State Fair is pro wrestling.  New Hampshire runs Snowmobile Races, a demolition derby, and mud races around Labor Day.  Arkansas has held their fair for 75 years.  They coordinate and hold the AKC Dog Show and Arkansas State Horse Show as part of the state fair.
Top State Fairs With Big Star Concerts:
Arizona
Phoenix, AZ – October 11 – November 3, 2014:  Playing the Arizona State Fair is Darius Rucker, John Fogerty, Josh Turner, Wiz Khalifa, and Justin Moore.  The fair expects to draw about 1.1 million visitors.
Colorado
Pueblo, CO – August 22 – September 1, 2014:  Playing at the Colorado State Fair is Brantley Gilbert, and Tony Orlando.  They expect to draw about 500,000 visitors to the fair.
Kansas
Hutchinsin, KS – September 5-14, 2014:  Playing the Kansas State Fair is Hunter Hayes, Chris Young, and 3 Doors Down.
Kentucky
Louisville, KY – August 14-24, 2014:  Playing the Kentucky State Fair is Lady Antebellum, Kenny Rodgers, Scotty McCreery, Oak Ridge Boys, Styx and Foreigner, Joan Jett, and Mercy Me.
Maryland
Timonium, MD – August 22 – September 1, 2014:  Playing at the Maryland State Fair is 38 Special, Grand Funk Railroad, and Phil Vasser.  Maryland should draw well over 400,000 visitors this year.
Nebraska
Grand Island, NE – August 22 – September 1, 2014:  Playing at the Nebraska State Fair is Styx, BJ Thomas, Terry Fator, and Brantley Gilbert.
New York
Syracuse, NY – August 21 – September 1, 2014:  Playing at The Great New York State Fair is Carrie Underwood, Kid Rock, Brad Paisley, Pitbull, Journey with Cheap Trick, and Jason Aldean.  New York is the longest continuously running state fair and should draw over 900,000 visitors.
North Carolina
Raleigh, NC – October 16-26, 2014:  Playing at the North Carolina State Fair is Vanilla Ice, Trace Adkins, Clay Walker, and Joan Jett.  Another big fair that should draw well over 900.000 visitors.
Oklahoma
Oklahoma City, OK – September 11-21, 2014:  Playing at the Oklahoma State Fair is The Charlie Daniels Band, and Jerrod Niemann.  About 900,000 visitors will walk the midway at Oklahoma's top fair.
Oregon
Salem, OR – August 22 – September 1, 2014:  Playing at the Oregon State Fair is The Beach Boys, Joan Jett, David Spade, Chris Young, and The Charlie Daniels Band.
South Carolina
Columbia, SC – October 8-19, 2014:  Playing at the South Carolina State Fair is ZZ Top, Lee Brice, and Jennifer Nettles.  A smaller fair that will still draw nearly 500,000 visitors.
Texas
Dallas, TX – September 26 – October 19, 2014:  Playing at the Texas State Fair is Fantasia, Kool and the Gang, Siggno, and Collective Soul.  The largest state fair with attendance expect well over 2.5 million visitors.
The Big E
West Springfield, MA – September 18-28, 2014:  Playing at The Big E is Darius Rucker, ZZ Top, Eddie Money, and Little Big Town.  This fair is also known at the Eastern State Exhibition and really is a New England fair combining the 6 states in the northeast.  Over  1.4 million people should attend.
Washington
Puyallup – September 5-21, 2014:  Playing at the Washington State Fair is Keith Urban, Toby Keith, Chicago, and REO Speedwagon.  Over a million people will visit this renamed state fair this year.
There are a number of fairs not making this list because their fair dates are before August or they do not feature big entertainers.
This is day 119 on our countdown to Halloween.  Hope you find some fall things to do by following our blog.  If you are looking for some additional information on state fairs check out Matts Carnival Warehouse press release about the top 50 fairs.