iTouch Watches Black Friday Deals 2023 – Wearable Watch Deals
Find the best deals on an iTouch watch during Black Friday 2023. Funtober collects all of the online sales and price discounts in print ads between Thanksgiving Day and Cyber Monday 2023.
If you in the market for an affordable smartwatch with tons of features take a look at iTouch Wearables smart watch line up deals sales and offer for Black Friday 2020. iTouch Watches will dial calls, monitor heart rate, activity and much more.The iTouch Watches are high on the feature scale and price friendly.Here are the specific for the three available models, iTouch, iTouch Air and iTouch Curve.
2018 Deals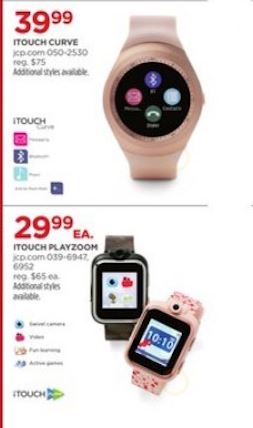 The iTouch Watches touch screen smart watch will monitor your steps, calories, distance and track you sleep. It can act as a camera and music remote.The screen also shows text, social media, games and email notifications and also has a calculator. You can dial and receive calls using the built in speaker. The built in speaker also allows you to use your apple or android virtual assistant. The find phone will let you know when you have moved out of Bluetooth range.The iTouch allows you to transfer all of contact from your phone.
Set up on any of the iTouch watches is as simple as downloading the android or iOS app. Then synch your watch via Bluetooth and you are ready to start, tracking, remote controlling music, and all of the other stuff and iTouch can do.
iTouch – This traditional looking case is 45.5mm wide and the battery lasts one day with average use. The charge time is about an hour and half.The iTouch integrates with Android 4.4 and higher as well as iOS version 7.2 and higher. The watch case comes in black, rose, silver, gold, gun and navy. The straps are available in black, blue, red, orange and green.
iTouch Air -Is a square faced touchscreen smart watch that comes in two sizes. The smaller 41x35mm case comes in black, gold, silver and gun. The straps come in black , pink and baby blue. The larger 45-37mm case comes in black, gold, rosegold, silver, gun and grey.The strap comes in black, blue, grey, orange and green.
iTouch Curve – The iTouch Curve looks like a traditional round watch, but has all the functionality of a smart watch. The case comes in black, gold, gun, and silver.The strap comes in black, grey and blue.
The iTouch Smart Watches are great budget option for wearable tech. These have basic smart watch functionality and some integration issues have been reported with the iOS camera, but at this price point it is hard to complain.We are searching out the best in store and online sales deals and offers on the iTouch Watch line up for Black Friday. While this may not be an Apple watch it is also $250 dollars cheaper. We expect cheaper wearable tech to be huge sale item for Black Friday 2019. It's a great budget friendly option, back up, teen or just for somebody whose rough on their gear. Check back for updated deals on the iTouch Watch line up as Black Friday 2019 get closer.
Last Major Update: