Best Time To Visit Philadelphia
I've spent a lot of time in the downtown area of Philadelphia in the last 4 years.  It is a wonderful city and I hope you are planning to visit or vacation.  I recommend coming this fall (September or October) as the best time to visit Philadelphia.  It is a big city and a crowded metropolitan area.  Stay at a downtown hotel and walk or use the Septa buses or trains to get around.  The downtown area is basically a one mile square from the Delaware River to the Schuylkill River.  So what is there to do in Philadelphia?  Read and find out why this is one of America's great cities.  See the video below about the Franklin Institute and its many exhibits.

Franklin Institute Science Museum – Planetarium, IMAX, Trains, and More.
It is a short walk from the center of Philadelphia to the Franklin Institute.  This is one of the most popular attractions.  They have the FELS Planetarium, the Turtleman Imax theater, the Joel N. Bloom Observatory and more exciting exhibits for the whole family.  This is an interactive museum with lots of hands on things to do.  Permanent exhibits include Electricity, Changing Earth, Franklin Airshow, Sports Challenge, Space Command, Train Factory, and the upcoming The Brain.  You will not see it all in one day but it is so much fun.
Independence Hall National Historic Park
Located in the old city part of downtown Philadelphia is historic Independence Hall at 5th and Chestnut.  So much of our national history was formed around the Declaration of Independence and Liberty Bell.  See where it all began back in 1776.  The tour through the original buildings is free but you must get a timed ticket at the Visitor Center building in advance.  The hall is open 365 days a year.  The tour takes about one hour.  This landmark looks much as it did back in 1776 but the surrounding area has changed greatly in 230 years.  Today it is run by the National Park Service and sits at one end of a park between 5th and 6th streets.  The main street through Philadelphia is Market Street which runs one block north of the hall.  Easily see the hall from Chestnut, Market, or Arch streets.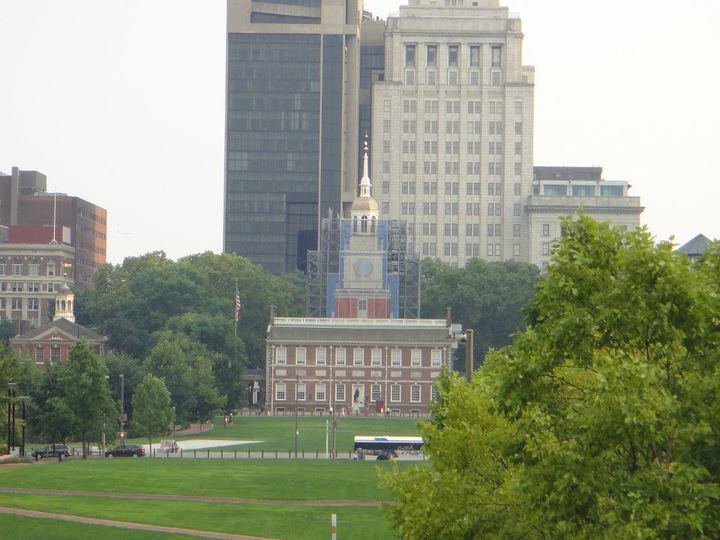 Liberty Bell
Across the street from Independence Hall is a new building that now houses the Liberty Bell as a separate exhibit.  The Centennial Bell rings from Independence Hall throughout the day.  There is generally a short wait to go through the exhibits and see the actual Liberty Bell up close.  You can also view it from Chestnut street outside.  See it up close and take some pictures.  This is a free exhibit.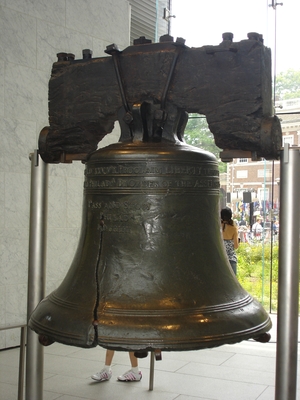 Tour the Liberty Bell exhibit near Independence Hall in Philadelphia
National Constitution Center
This is a beautiful building located at 5th and Arch Street at the north end of the park facing Independence Hall.  You must pay to enter the many exhibits housed in this center.  It is well worth the money and two to three hours of your time.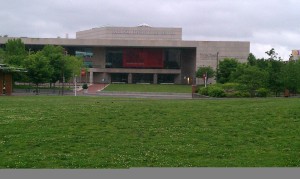 More Historic Sites in Old City – Philadelphia
Imagine Philadelphia in 1776.  The city at that time was the largest in America with around 30,000 residents.  Today it is just a 5 minute walk from Independence Hall to Ben Franklin's original and first post office which is still open today.  You are just over one block from the Betsy Ross house.  Ben Franklin's home is no longer standing but they have marked off and preserved the area.  Nearby is City Tavern, a bar, dating back to the Revolutionary War.  Also nearby is Carpenter's Hall; the meeting place in 1774 that our country's founders met and debated the beginnings of uniting the colonies against the British.  Ben Franklin's gravesite, Christ Church, and the building Thomas Jefferson wrote his first drafts of the Declaration of Independence are only one or two blocks away.  You can see all this in one day but it will be a day you remember forever.
Must See Things To Do In Philadelphia:
Philadelphia Museum of Art
The Museum of Art is one of the world's great art museums and famous for Sylvester Stallone's run up the steps in the movie Rocky.
Barnes Foundation
Barnes is a new art museum housing one of the finest collections of impressionist, post-impressionist, early modern, paintings, African sculptures, and metalwork, in the world.
Walnut Theater
The Walnut Theater dates back more than 200 years and is still an active live theater today.  At one point most of the historic actors of stage and screen have performed at the Walnut.  It is a beautiful place to watch a Broadway type play or musical.  Check their schedule and get a ticket in advance.
Kimmel Center for the Performing Arts
Located at Broad and Spruce, the Kimmel Center is the hub of the performing arts area of the city.  Located just 4 blocks from City Hall, it is near 5 other music and live theater attractions.  Kimmel is also the home to the Philadelphia Orchestra.
National Museum of American Jewish History
Featured attraction for this fall is their exhibit:  "Chasing Dreams: Baseball and Becoming American".
Parts of Downtown You Must See:
Penn's Landing is basically the shore of the Delaware River and features a plaza with weekly festivals, fireworks, food, and music.  Walk South Street for some great bars and music.  See Geno's Steaks and Pat's King of Steaks located across from each other at 9th and Passyunk.  These are 24 hour cheesesteak places that are always busy.  Expect a wait line.  I prefer Jim's on South Street but there are probably another 30 places to get a great cheesesteak sandwich in the city.  For better dining, try the Rittenhouse Square area.  My new favorite restaurant is the Devon Seafood Grill.
Downtown
Philadelphia has a vibrant downtown area with all the chain restaurants, bars, fast food, and retail stores you will find anywhere.  All within easy walking distance.  As my son says, "why eat chain food when Philadelphia has wonderful local restaurants".  It is a city where craft beers are readily available at all the bars.  In fact you are more likely to find a craft beer on the menu rather than a Bud Light.
Of course this fall you might want to take in a Phillies or Eagles game which is an easy ride on the Septa subways south to the ballparks.  Septa buses can take you on a 15 minute ride to the Philadelphia Zoo or to Eastern State Penitentiary.  The closed prison has daily tours and in October is one of the top haunted house attractions in the country.  Also Philadelphia has a world class convention center plus the University of Pennsylvania, Drexel University, Temple University and more.
Pennsylvania attractions within a hour drive of Philadelphia.
Hersey
The town of Hersey is home to the famous chocolate maker of the same name.  There you will find a full amusement park and rides and also a Hersey exhibit featuring lots of film, rides, and fun about making chocolate.  If you have seen a Hersey store in New York this is 10 times that size.
Sesame Street
Located north in Langhorne is Sesame Street and a fabled children's attraction complete with all our favorite characters.  It has lots of monthly events including Halloween attractions and parties made for kids.
King of Prussia Mall
This is one of the world's largest retail shopping malls located in King of Prussia, just a 20 minute car drive or one hour bus ride from Philadelphia.
Valley Forge National Park
George Washington spent a famous winter with his troops at Valley Forge.  A great place to tour on a warm fall afternoon.
See our pages on Haunted Houses, Festivals, Oktoberfest, Ghost Tours, and more for all the things going on around Philadelphia this fall.  If you are here around Labor Day consider JayZ's Budweiser "Made in America" music event in downtown Philadelphia as a must see.
There are hundreds of fantastic things to do that I missed telling you about.  Spend a day, weekend, or vacation in Philadelphia and enjoy these and more.  Drop me comment and tell me about your vacation here in the city.