I've discovered 23 ghost tours in Pennsylvania.Also known as the birthplace of the United States, you can hear some fantastic stories on the Philadelphia ghost tours.Time Magazine put Eastern State Penitentiary in the Fairmount neighborhood of Philadelphia as one of the top 10 haunted places in the world.Cell Block 12 is generally considered the most haunted spot in the prison.Pennsylvania is also home to numerous sightings of civil war soldiers around Gettysburg, where 51,000 died in one of the largest battles of the Civil War, have put Gettysburg second on the CNBC's list of the 10 Most Haunted Cities in America.
Book Tickets Now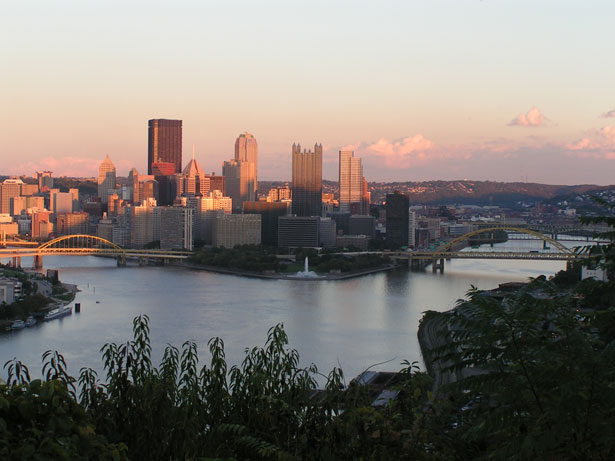 Pittsburgh and Western PA
View them here.
Philadelphia
Three tours offer historic information and ghost stories at locations around Independence Hall and the Liberty Bell.Learn more.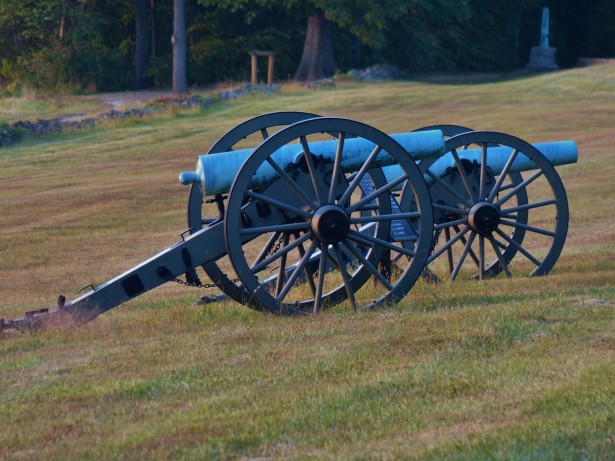 Gettysburg
Due to the large number of ghosts in Gettysburg, we've created a separate section for the Gettysburg ghost tours.
Candlelight Ghost Tours of Fort Mifflin - Philadelphia, PA
Experience Fort Mifflin after hours on one of their popular candlelight walking tours. 2017 Dates are Saturday, October 14; Friday, October 20 and Saturday, October 21. Tours depart every half hour from 7:00pm to 10:00pm and last approximately 1 hour. Tickets: $20 per person, $15 for children 12 and under.
Depreciation Lands Museum - Allison Park, PA
Family-friendly lantern tours are held at the 175+ year old landmark every year on the two Saturdays before Halloween. Costumed guides lead visitors by candlelight around the property, including the cemetery, blacksmith's shop, one-room schoolhouse and log cabin, while providing information about early American superstitions, burial customs If you look carefully, you may just see The Deacon, the benevolent ghost that museum volunteers have been seeing since 1973. We originally found this event on the Steel City Ghost Hunters website, so we are guessing that they also have some involvement with the event. The tour is family friendly, with tickets available for $5 for adults and $3 for children ages 11 and under. Enjoy cookies and hot cider as well. First tour is open to everyone. Second tour date is reserved for groups of 6+ and must be scheduled in advance. Held from 6 to 9 pm on the scheduled dates.
Gettysburg Ghost Tours - Gettysburg, PA
Follow the candle's flickering light through this walking tour of the most haunted locations Gettysburg has to offer. Professional storytellers guide visitors along a path of their own choosing in a tour season that is year round. Special Storytelling Dinners & Drinks are available for $25 on select nights. Walking Tours are generally $9-12 with bus tours and ghost hunts priced between $24.95 and $55.
Ghastly Tales of the LeMoyne House - Washington, PA
Annual event in October. Cosponsored by the Bassettown Paranormal Society, they will present the findings from ghost hunts its members have performed in the LeMoyne House. The tours at the house at 49 E. Maiden St. will begin every 20 minutes from 7 to 11 p.m. on the select Friday and Saturday in october 2017. There will be a $10 admission fee.
Ghost Tour of Philadelphia - Philadelphia, PA
Philadelphia's most haunted locations are on the schedule for this candlelit walking tour. In 2013, Budget Travel Magazine called this tour one of the 15 Places Your Kids Should See Before 15. Clocking in at about 90 minutes, these tours take guests to sites steeped in history both educational and eerie. Adults are $17 and children 4 to 12 are $10. Tours depart from Signers Garden at 5th and Chestnut. Group and private tours are available.
Ghost Tours at Baker Mansion - Altoona, PA
Find Ghost Hunts at Baker Mansion on October 13-14, 2017. 8pm to 12am – $40 per person per night. Baker Mansion is said by some to be one of the most haunted historical sites in Pennsylvania. The 170 year-old mansion is a wonderfully eerie place to explore in the dead of night. Immerse yourself in lifestyle of the 1800s as you explore the haunted hallways of the hallowed homestead. Participants are encourage to bring their own paranormal detective equipment, flashlights, cameras, and recorders to catch a glimpse of the spirits who supposedly roam the majestic mansion. The fee includes an historical introduction to the site, free refreshments, and the accessible knowledge of site volunteers on standby. The Downtown Altoona Haunted History Tour is October 27, 2017. Start times are 7pm and 9pm – $20 per person. Join history instructor Jared Frederick as he explores the haunted history of downtown Altoona by lantern light. Ever since its construction in the 1840s, the areas of 10th, 11th, and 12th Avenues have been the site of murders, fires, train wrecks, and mysterious deaths of every conceivable manner. Walk in the footsteps of the city's forebearers while learning about the darker side of the town's colorful past.
Ghost Tours of Lancaster - Strasburg, PA
At 90 minutes, this candlelit walking tour of downtown Lancaster, Pennsylvania explores the hundreds of years of history to be found in one of America's oldest cities. Tours are available throughout the year. Price is $14 per adult and $10 for children 4 to 12 years of age.
Ghost Tours of New Hope - New Hope, PA
Lantern light illuminates the way through the streets of New Hope in this walking tour. Private tours are available for groups of eight or more. Tickets are $10 per person.
Ghostly Images of Gettysburg - Gettysburg, PA
Walking and bus tours of the most gruesome sites of Gettysburg are available through Ghostly Images. From an orphanage to the countryside, opportunities to face the supernatural are plentiful. Tickets for the walking tour, ghostly encounter and midnight adventure in a haunted house are priced between $10 and $15.
Ghosts of Gettysburg - Gettysburg, PA
Ghosts of Gettysburg offers multiple walking tours through the cities storied streets, with a bus tour also available. Tours are based on the best selling books of Mark Nesbitt, a former National Park Service Ranger/Historian. The Baltimore St. and Steinwehr Ave. tours are $9.50 per person plus tax and the Carlisle St. tour is $10.00 per person plus tax.
Grim Philly Twilight Tours - Philadelphia, PA
All things dark and sinister in Philadelphia are on the grisly menu for those brave enough to take the tours offered by Grim Philly Twilight Tours. With a variety of tours covering a myriad of topics, no patron will have a lack of choices for their bloody, historical education. Philadelphia residents voted this the best city tour in 2013 for PHL17's Philly HOT LIST awards. Prices and tour running times are dependent on the tour, or tours, chosen. Their Vampires, Sex and Ghosts! Tour was featured on The Layover, Anthony Bourdain's television series on the Travel Channel. It costs $19.99 per person and departs from Independence Visitor Center. Other tours include Serial Killers, Blood & Beer!; Grim Philly's Riverboat Cruise Pirates, Rum Runners, and the Jersey Devil Riverboat; and a variety of seasonal events.
Haunted Easton Tours - Easton, PA
A cross between a ghost tour and a haunted house. They take folks on a guided tour through the back alleys in Easton PA with several stops along the way where the stories from Easton's sordid past are acted out. Tickets for the tour are $10 in advance.
Haunted Gettysburg Tours - Gettysburg, PA
Departing nightly, between the months of April-October, rain or shine, Haunted Gettysburg Tours offers premier ghost walks. With stories based on the best selling book series Haunted Gettysburg, their period dressed, experienced and knowledgable storytellers will guide you on a one hour tour through the dark alleyways and shadowy streets of Historic Gettysburg. Listen by candlelight and learn the ghostly tales along with some history about one of America's most haunted towns. The candlelight walking tours include the Spooky Dobbin Alley Tour, the Bloody Cemetery Hill Tour and our NEW Spirits with Spirits Pub Crawl. The two hour Xtreme Paranormal Investigation allows you the opportunity to be an investigator at one of the most haunted locations in Gettysburg.
Haunted History of Rock Ford Plantation - , PA
Lancaster City is home to Rock Ford Mansion, former home of General Edward Hand of the Revolutionary War. Candlelit tours of the historic mansion are available with guides telling two centuries worth of stories. Reservations are required, with the tour not recommended for those under 12 years old.
Haunted Pittsburgh Ghost Tour - Pittsburgh, PA
Even spines made of steel may not be enough for this tour of Pittsburgh's scariest locations. Haunted Pittsburgh offers multiple tours, taking guests through downtown to the edges of the historic city. Tours are conducted May through October.
Historic Farnsworth House Ghost Walks - Gettysburg, PA
Featured on various television programs, including A&E and The Travel Channel, tours offered include candlelight walks through Gettysburg with guides in period garb and a ghost hunt. Tickets prices vary from $9-16 for tours and up to $50 deluxe 5 hour paranormal investigation nights.
Historic Ghost Walks of PA - New Milford, PA
Located in New Milford, Pennsylvania, this candlelit walking tour takes guests through the long and dark history of the city. Admission is $5 for everyone over 6 years old.
Jim Thorpe Rotary Ghost Walks - Jim Thorpe, PA
Reservations are strongly recommended for this one hour, lantern-led walking tour of Jim Thorpe, Pennsylvania.
Lantern Ghost Tours of Colonial Pennsylvania Plantation - Newtown Square, PA
The Colonial Plantation invites you to an evening of strange sounds, squeaky doors, and ghostly stories in Delaware County. Follow the torch lit path to the farmhouse, where you will hear a story in each room of bizarre events from times long past and people long dead. Finish at the bonfire for one last tale of ghosts and mayhem. 2017 Dates are October 21 and 28. $12.00 – adults and children ten and over. $10.00 for members. Not recommended for young children. Pre-Registration required (call the office at 610-566-1725 for tickets). Tours leave for the house at 6:00, 6:30, 7:00, 7:30 , 8:00, 8:30 and 9:00. Tickets will be held at the door. Bring a flashlight and wear sturdy, closed-toe shoes.
Mason Dixon Paranormal Society - Gettysburg, PA
A non-profit organization providing ghost tours of Gettysburg to fund its free paranormal investigations for homeowners around the East Coast. Four tour options allow a choice of exploring ghosts from the Battle of Gettysburg, city locations visited by President Abraham Lincoln, a family friendly investigation of a haunted location in town or a full two hour paranormal investigation. The price for adults starts at $10 per person and goes up to $35 per person for the paranormal investigation. Kids 7 and under are free.
Miss Betty's Ghosts in Gettysburg - , PA
With haunted locations showcased on television, these guided tours take visitors through some of the most storied landmarks in Gettysburg. Two tours are available: the Spirit's of Sach's Bridge Tour and the Sach's Bridge / Haunted Barn Tour.
Old Jail Museum Ghost Tours - Jim Thorpe, PA
Explore the history and horrors of Jim Thorpe, Pennsylvania's Old Jail in this tour with only candle light protecting the brave from the creeping dark. Children under 12 are not recommended to attend. Parking is limited. Admission is $10 for adults and $7 for students.
Scranton Ghost Tours - Scranton, PA
The city of Scranton has stories to tell. From miners lost in the miles of tunnels beneath to plots of murder, these horrifying tales of blood and madness are told during a 90-minute walking tour of this historic city. Parking details and tour pricing information are available with a simple phone call.
Sleepy Hollow of Gettysburg Candlelight Ghost Tours - Gettysburg, PA
Storytellers in period attire lead guests through the haunted history of Gettysburg by candlelight. Both the Haunted Towne Tour and the Ghost Hunt depart from Historic Dobbin House. Ticket prices are $8 for the tour and $15 for the hunt.
Spirits of '76 Ghost Tour - Philadelphia, PA
They say this tour is one part history and two part haunts. Developed by the same group that did the popular Constitutional Walking Tour in Philly, that makes sense. Are you ready to explore haunted Philadelphia? Boasting stops at over twenty historic locations, it takes guests through the history and haunted locations of one of America's most influential cities. Stops include Independence Hall, the Liberty Bell, Washington Square Park, various churches and cemeteries, and the Second Bank of the United States. Learn about the only prisoner to escape from Eastern State Penitentiary, the dancing statute of Benjamin Franklin, and some of the folklore of Edgar Allan Poe when he lived in the city. You will also see film locations from some of the nation's most popular movies, including the Sixth Sense, National Treasure and Shooter. Tours meet at Mrs. K's Koffee Shop at 325 Chestnut Street in Old City. Everyone gets a free glow stick. The tour lasts approximately 75 minutes. Tickets are $17.50 for adults and $12.50 for children. Tickets available for purchase online. Private and group tours are available year round.
Spirits of Staple Bend Tunnel Tour - Gallitzin, PA
An annual family friendly event on the Saturday before Halloween held by the Allegheny Portage Railroad National Historic Site. Staple Bend was the first railroad tunnel in America and is located near Mineral Point, five miles from Johnstown. One hour tours allow you to meet costumed railroad characters from the 19th century. Tours are limited and reservations must be made in advance. The cost is only $2 per person. Visitors are bussed from the parking area to the tunnel for the performance.
Walk This Way Tours - Jim Thorpe, PA
The legends and lore of old Jim Thorpe, Pennsylvania are there for the hearing during this one hour walking tour of this historic city. Tickets are $9 for adults and $5 for children under 12.
Last Major Update:
I'll add more information about these ghost tours when I get a chance.You can eventually expect to find the length of the tour, mode of movement from place to place, reservation information, ticket price, parking information, and dates of tours.I apologize for not having this information up already.
If you have taken one of the following tours, I hope you will consider adding a review of the tour using the comment box found at the bottom of this page.Your review will be posted and help future visitors determine whether the ghost tour is worth their time and money.
If you work for a ghost tour, please feel free to leave additional information for consumers as well.
Find nearby Delaware ghost tours, Maryland ghost tours, New Jersey ghost tours, New York ghost tours, Ohio ghost tours and West Virginia ghost tours.
Find other fun things to do in Pennsylvania in October:
Oktoberfest in Pennsylvania
Pennsylvania Festivals
Pennsylvania Corn Mazes
Haunted Houses in Pennsylvania
Pumpkin Patches in Pennsylvania
Shop Funtober for Halloween Costumes