There are alot of California ghost tours the state has some of the most haunted locations on the planet. The Whaley House in San Diego was reportedly declared haunted by the U.S. Commerce Department in the 1960s. The Travel Channel called it America's most supernatural home. Nearby San Diego Cemetary is also haunted. Time Magazine called the Queen Mary, now docked permanently in Long Beach, California, as one of the world's top 10 haunted places. CNBC named it the 9th most haunted city in America because of, among other hauntings, the fire at the Cameron House in Chinatown and voices heard by visitors to Alcatraz. And I didn't even mention all of the celebrities buried in Hollywood who are still clamoring for attention.
Book Tickets Now
Southern California
View haunted Los Angeles, San Diego and other Southern California tours here.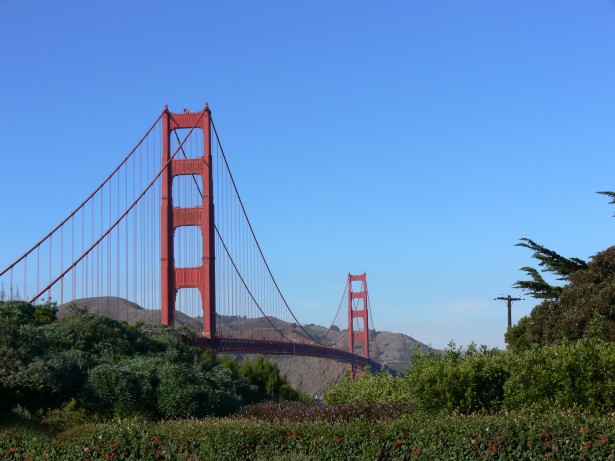 Alcatraz Night Tour - San Francsico, CA
a 2.5 hour guided boat and walking tour at night of the haunted prison. Hosted by Alcatraz Cruises, the cost is $37 for adults. The legendary federal prison known as The Rock was open for thirty years starting in 1933 and housed famous prisoners such as Al Capone.
Benicia Ghost Walk - Benicia, CA
a walking tour of Benicia with paranormal investigator Devin Sisk. Sisk has conducted more than 300 investigations and appeared on programs on Discovery Channel and Animal Planet, among others. Tour length is approximately two hours. Tickets are $25 per person and prepaid reservations are required. Tours depart on the first and third Fridays at 8 PM with additional offerings in October.
Downtown Pleasanton Ghost Walk - Pleasanton, CA
an annual walking tour of Pleasanton's ghosts in October by Museum on Main. Tours last two hours and depart every 30 minutes from 6 pm to 8 pm. Tickets go on sale July 1 and cost between $13 and $18.
Fullerton Haunted Walking Tours - Fullerton, CA
2.5 hour walking history tours of haunted locations throughout Fullerton in September and October. Potential locations visited include Plummer Auditorium, the historic California Hotel (now known as Villa del Sol) and the police station.Meets at Fullerton Museum on Tuesday and Wednesday evenings at 6 pm. Cost is $15-18 with the special Halloween tour available for $20-25. Arrive early to meet members of the North Orange County Paranormal Society and hear about the latest in paranormal research techniques.
Ghost Tour of Old Monterey - Monterey, CA
a 90 minute trolley tour that visits haunted buildings, the oldest church in California and a cemetery in Monterey. The cost is $28 for adults and $15 for children 12 years of age and younger.
Ghost Tours of Catalina - Avalon, CA
a 1 hour walking tour of Avalon on Catalina Island that discusses the history and paranormal activity of the area's locations.
Ghost Walk Riverside - Riverside, CA
an annual ghost tour by the California Riverside Ballet which takes guests through haunted downtown Riverside locations in October.
Ghostly Tours in History - San Diego, CA
walking and limo tours of haunted locations in San Diego. Walking tours of the Gaslamp and Old Town (including the Whaley House) cost between $20 and $25. The bus tour is a two hour trip to five different graveyards for $35. The ghost hunt is $50 and the three hour limo tour is $65.
Ghostwalk - , CA
a fundraiser by Santa Paula Theater that tells the historic stories of people, events and disasters of Santa Paula and Santa Clara River Valley.
Haunted Haight Walking Tour - , CA
a walking tour of the haunted history, murders and ghosts of the Haight-Ashbury neighborhood in San Francisco. You will see over 150 Victorian homes. The tour concludes at a haunted pub which you can enter. No private residences are entered during the walk. Tickets are $20 per person. Your guide is the founder of The San Francisco Ghost Society. The tour departs from Coffee to the People which is located at Masonic & Haight.
Haunted Hollywood Tour - Los Angeles, CA
a bus tour of Hollywood and Beverly Hills that visits various locations haunted by departed celebrities. Highlighted locations include Roosevelt Hotel, Greystone Mansion, and Grauman's Chinese Theater, among others. Potential spirits you may encounter include Marilyn Monroe, River Phoenix, Jim Morrison and Harry Houdini. It is a two hour tour starting from the Starline Tours Terminal at the Chinese Theater (with various potential pickup locations at an extra fee).
Haunted Nevada City Tours - Nevada City, CA
Tours on Friday, Saturday and Sunday in October. Admission is $10 for Adults and $5 for children age 12 and under. Children age 5 and under are admitted free. There is a minimum charge of $50 for private tours. For further details please call: 530-265-6877
Haunted San Diego Ghost Tours - San Diego, CA
a 2 hour walking and bus tour that visits various haunted locations in San Diego. Potential locations include the Whaley House, Villa Montezuma, William Heath Davis House, Horton Grand Hotel and El Campo Santo Cemetery. Guests enter three of the five haunted locations visited. They generally operate tours five days a week (Wednesday through Sunday) at 7 PM all year long. Reservations are required. Cost is $35 per person. Tours depart from The Best Western Plus Hacienda Hotel.
Hysterical Walks - , CA
two ghost tours in Sacramento in October. Shock of the Dead is for ages 18+ and emphasizes the naughty stories from the history of Sacramento. Walk of the Dead tells family-friendly ghost stories all ages can enjoy. Tickets are $15-20 per person.
Michael J. Kouri's Ghost Tours - , CA
walking tours year round of haunted locations in Pasadena, Orange County and Hollywood. Kouri is a psychic medium and parapsychological investigator and leads all tours himself. Tours of Halloween Tour Season Begins August 1st and runs through November 1st each year. Cost is $199 for adults and $125 for kids. Includes a mini psychic reading and dinner at a gourmet haunted restaurant. Total time is approximately 2-3 hours. There are also special events such as a tour of the Queen Mary.
Old Towns Most Haunted - San Diego, CA
a 90 minute guided walking tour of Old Town San Diego that offers stories from the guide's thirteen years ghost hunting in San Diego. EMF k2 Meters are available for use in the Cosmopolitain. Tours run year round and meet at the Water Fountain in front of Fiesta De Reyes. Cost is $19 for adults and $10 for children ages six to twelve.
Queen Mary - Long Beach, CA
Dining with the Spirits is a three course dinner at Sir Winston's Restaurant followed by a two hour paranormal investigation of the Queen Mary. Total time is approximately four hours. Cost (including meal) is $129 per person. Parking is not included. Friday night paranormal investigations without dinner are available for $75 per person. They will have ghost hunting equipment on hand for you to use. There is also a Spirit Walk on Saturday nights for $75 per person that makes extended stops at many of the ship's haunted locations.
Sacramento History Museum Ghost Walks - Sacramento, CA
Explore Old Sacramento while hearing stories of murder, ghosts and history dating back to the gold rush. Tickets are $15 for adults and $10 for kids. This popular annual event is part of the Museum's Living History Program.
San Diego Ghost Tours - San Diego, CA

San Diego Ghosts and Gravestones Tour - San Diego, CA
a 90 minute exploration of the Gaslamp Quarter, including stops at El Campo Santo Cemetery and the Whaley House. Tour begins at the Old Town Market courtyard. It departs at 7:30 pm on Thursday through Saturday evenings. They offer a 100% money back guarantee if you are not satisfied.
San Francisco Ghost Hunt - San Francisco, CA
a three hour walking tour covering about a mile in the Pacific Heights neighborhood filled with neighborhood history, Victorian architecture and ghost stories at haunted locations. Adults are $20 per person. Children ages 8 to 16 are $10. Cash and traveler's checks only. Reservations are not required and advance ticket purchases are not available. Tours leave year round from in front of the Queen Anne Hotel at 7 PM Wednesday through Sunday. The tour is not recommended for children under 8 years of age.
SF Chinatown Ghost Tours - , CA
a two hour lamplight tour of Chinatown in San Francisco, with stories of the spirits that haunt the oldest Chinese community in the US. The tour is $48 per person with children 17 years of age and younger only $24. Tour meets at Four Seas Restaurant.
SF City Guides - San Francisco, CA
two different ghost walks in San Francisco in October. One covers City Hall and the other covers The Palace Hotel. Lasting between 45 and 60 minutes, they are provided free (donations welcome). Parties of eight or more are required to schedule a private tour.
Whaley House Ghost Tours - San Diego, CA
The ghost tour offers a 90 minute guided tour of Old Town San Diego, including entry into the Adobe Chapel, El Campo Santo Cemetery and the Whaley House. The ghost hunt is a 90 minute paranormal investigation with San Diego Ghost Hunters of the Whaley House, which has been called the most haunted house in America.
Winchester Mystery House - San Jose, CA
65 minute Friday the 13th and October Flashlight tours of the home Sarah Winchester reportedly still inhabits. Tickets do sell out. They go on sale approximately one month before the event. Mrs. Winchester built this house after she moved from Connecticut to California following the tragedies that struck her daughter and husband. Following the death of her husband and mother-in-law, she owned nearly fifty percent of the stock of Winchester Repeating Arms Company.
Last Major Update:
I'll add more information about these ghost tours soon. You can expect to find the length of the tour, mode of movement from place to place, reservation information, ticket price, parking information, and dates of tours when I am done. I apologize for not having this information up already.
If you have taken one of the tours, I hope you will consider adding a review of the tour using the comment box found at the bottom of this page. Your review will be posted and help future visitors determine whether the ghost tour is worth their time and money.
If you work for a ghost tour, please feel free to leave additional information for consumers as well.
Find nearby Arizona ghost tours, Nevada ghost tours and Oregon ghost tours.
Find other fun things to do in California in October:
Oktoberfest in California
California Festivals
California Corn Mazes
Haunted Houses in California
Pumpkin Patches in California
Shop Funtober for Halloween Costumes