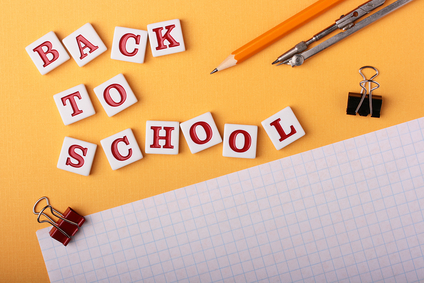 It's crazy. This summer just flew by. How do we know fall is almost here?
The heat is decreasing and the daily summer thunderstorms seem to have stopped here in Philadelphia. After eight straight days with highs over 90 in mid-july, the temperature has decreased to a more comfortable level.
Back to School promotions are in the stores. I noticed the ads on television the week of August 1st. If you look online, you will also find a number of Back to School Giveaways going on now. And residents of Maryland and Connecticut should remember to take advantage of their upcoming sales tax free shopping for back to school.
Haunted Houses are hiring. We're compiling a list of links to information about auditions for working at a haunted house this autumn. If you are looking, check out our haunted house job board. If you know that a haunted house near you is looking, pass it along and we'll post it.
Preseason NFL football has started and fantasy football drafts are right around the corner. It's less than a month to the first professional football game on September 5th between the Denver Broncos and Baltimore Ravens.
Sam Adams Oktoberfest is on the shelves. It's not the only oktoberfest or pumpkin beer available, either.
Pumpkin coffee is back, thanks to Green Mountain Coffee and Keurig. You only have a few more weeks to wait before Starbucks and Dunkin Donuts join them.
The fall television schedule has been set. New shows start September 29th! Check out TV guide's fall preview.
There's only three weeks until Labor Day weekend. Fall will definitely be in full swing soon!
Here's what we're doing:
We have just made another pass through our humongous list of Oktoberfests and fall festivals. We're adding dates and links to information as rapidly as humanly possible. We'll start updating our corn maze section for 2013 as soon as we're done. We've noticed that some of the corn mazes are releasing their maze design photos already!
We are loading up around 750 more costumes over the next two weeks. We'll have about 2500 outfits covering over 200 costume ideas this fall. So check out our Halloween costumes in September to see the additions!
We are looking forward to attending Affiliate Summit East, a semi-annual conference about affiliate marketing that will be held at the Philadelphia Convention Center this year. If you scroll down their page, you will see Funtober on the list of attendees! We're going thanks to complimentary passes from Philly Tech Meetup. Mad props to them! Be sure to say hello if you are in town for the event.