15 Tips to Enjoying Oktoberfest in Munich
If you are travelling to the Munich Oktoberfest this fall we have a few tips to make your time in Munich more memorable. We also have more information on the great beer tents at "Most Famous Oktoberfest Beer Tents".
When is Oktoberfest?
The Munich Oktoberfest runs from mid-September to early October every year. Make your trip for September rather than October because the weather is usually better.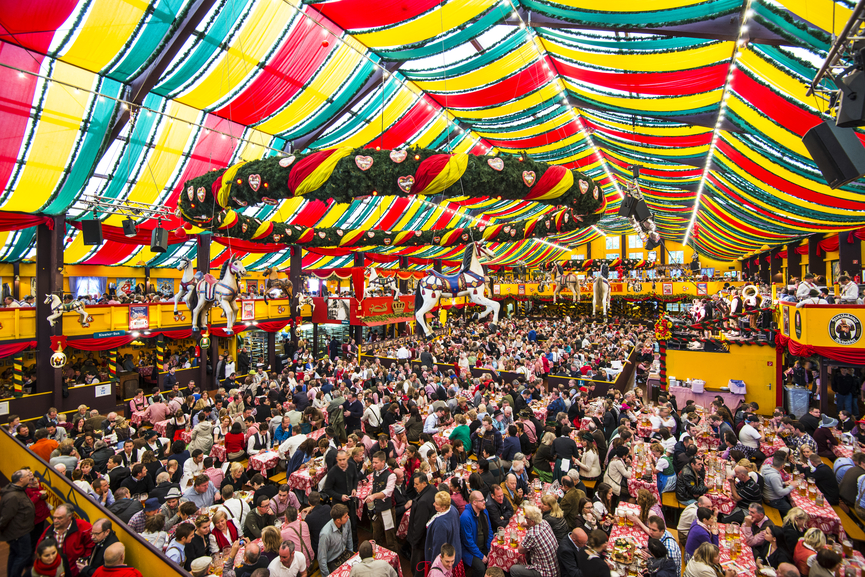 Enjoy Oktoberfest in Munich
Accommodations
Things fill up. So book EARLY!
How Long?
One astute Oktoberfest veteran suggested that you should spread out two or three visits to Oktoberfest over the course of a week in Munich. That way you can rest and recover from the party during off days.
Getting There
Don't drive. Parking is a nightmare. Take the underground to the Theresienwiese stop with everyone else. Or walk the 10-15 minutes from the central train station.
Orient Yourself
A two hour walking tour is available daily.
Clothing
Get in the spirit and wear Bavarian clothing. About half of attendees will. Don't wear open toed shoes or sandals because the floor may have glass from dropped mugs.
Cost
No entrance fee to the fairgrounds or tents. Depending on how much you eat/drink, figure about 100 euros a day for 5 steins and food.
Seating
Go early and grab an unreserved table if you don't plan early enough to grab a reservation. You can stay as long as you keep eating and drinking.
Beer
Order a Mass.
Toasting
Don't get caught with an empty mug during a toast. And make eye contact or you'll be condemned to seven years of bad sex (kind of like breaking a mirror!)
Dancing
Dance on the benches. Not in the aisles or on the tables.
Can you steal a mug?
We know you'll be drinking. And the mugs look like a good souvenir. Don't do it. There's a hefty fine if you are caught with one.
Bathrooms
Large tents have them. On the grounds, there are statues of cupid which point the way. Lines can be long for ladies, so plan ahead.
Premature Exit
Don't leave a full tent without your friends, because you may not be able to get back into the tent to continue drinking with them.
Plan Ahead
Grab a business card from your hotel/hostel so that you can hand it to the taxi driver. And definitely don't vomit in the taxi! It will be an expensive ride.
Additional Information:
Oktoberfest Dates
Oktoberfest Beer
Beer Tents
Besides Drinking
Oktoberfest Clothing
Oktoberfest Facts
Oktoberfest for Ladies
Oktoberfest Songs
Oktoberfest Weather
Oktoberfest Home