Campgrounds
There are a few campgrounds around Munich for low budget tourists and backpackers. Tents are available or there is space to pitch your own. For those who just need a place to crash for the night, there are also dormitory style tents. You can also rent a camper for deluxe accomodations. Some accept reservations, others are available on a first come first serve basis. The Wies'n Camp is setup each year just for Oktoberfest.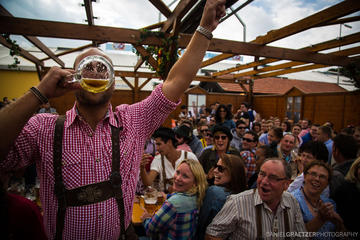 Overnight Camping for Oktoberfest – $131.13 via Viator
Here are a few overviews of campgrounds that we found.
To understand the demand for housing during Oktoberfest, we also searched for hotels for a weeklong stay before and after Oktoberfest. In October, prices started at just under 100 euros per night and we probably would have been quite satisfied with the accommodations for just under 200 euros per night. And we saw few, if any, indications that hotels were about to be listed as unavailable to make reservations. In September, we could stay for a week at the Munich airport for $75 a night or stay near the Marienplatz for between $150-$300 a night.
Hotel Guides
Try one of these two hotel guides for Munich hotel recommendations. There's also another reservation service to consider.
Hostels
Wombat's in Munich takes online reservations for Oktoberfest starting at noon, Central European Time, on June 1st. Reservations fill up for Oktoberfest in about ten minutes. The cost for a night is between 60-100 euros. It's one of the best hostels in Munich.
Jaeger's starts booking for Oktoberfest in January.
The 4You Hostel & Hotel starts taking reservations online in January 2012.
The Easy Palace requires Oktoberfest reservations to be via fax, email or letter.
Other Options
There are a number of couch surfing sites which you could use to connect with someone. The problem with this option is that most people with couch space will be inundated with requests from friends who want to stay at their place. Airbnb has gained popularity recently and is worth searching. Also, Craigslist works well for these sort of things in the United States. Why not try the Munich Craigslist instead?
Oktoberfest Tours
If you find that the city of Munich is booked and you still want to go, there is another option. Tour groups sign up for accomodations and beer tent reservations in advance of your booking their trip. If you contact the tour operators, you may find that one of them still has space in their group for you.
Nearby Cities
Try Nuremberg, Erlangen, Regensburg or Salzburg. Take the train to Munich. Some who are desperate sleep in the Munich central train station, according to one website we saw online. Our lawyer says we definitely can't recommend this.
Additional Information:
Flights
Munich Transportation
German Language Guide
Currency Exchange
Other Cities in Europe to Visit
Oktoberfest Home
Last Major Update: