Victrola Black Friday Deals 2023 Record Player, Bluetooth Speakers, Turntable & Cyber Monday Deals
Find the best deals on Victrola record players, turntables and jukeboxes during Black Friday 2023. Funtober searches for all of the online sales and big price discounts in print ads available from Thanksgiving Day to Cyber Monday 2023.
2022 Deals:
Find more Black Friday deals right now at Amazon.com.
2020 Black Friday Deals on Victrola Record Players
Kohl's has a Victrola 3-in-1 for $59.99 (plus earn $15 Kohl's Cash) on Thanksgiving (online beginning at 12:01am) and in stores on Black Friday (beginning at 5am)
Black Friday may be winding down this year, but Cyber Week is heating up with major retailers announcing their savings. We expect big online sales for Cyber Monday 2020 across a wide range of products. Cyber Monday is expected to result in more than $9 billion in sales in a 24 hour period on Monday, November 30th. We will be posting the Victrola Cyber Monday deals here as they are announced.
2019 Black Friday Deals:
Victrola turntables – Save up to 30% @ Best Buy
Victrola 3-in-1 Bluetooth record player – $39.99 @ Kohls (save $30)
Victrola Bluetooth 3-speed Suitcase Turntable – $59.99 @ Kohls (save $30 + $15 Kohl's Cash)
Victrola 6-in-1 Empire Turntable – $129.99 @ Kohls (save $50 + $30 Kohl's Cash)
Victrola 6-in-1 Classic Recordable Bluetooth Music Center – $129.99 @ Kohls (save $50 + $30 Kohl's Cash)
Here are the Victrola products that we will be closely following prices during 2018::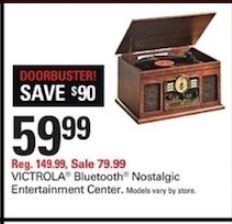 Victrola Record Players with Turntable: Nostalgic record players; Tabletop record players with bluetooth, CD player and 3-speed turntable; and Portable suitcase record players with 3-speed turntables.
Victrola Bluetooth Stereo: The three-speed Victrola plays your favorite vinyl records, and the stereo plays modern CDs and tunes into the AM/FM radio. This Innovative Technology retro stereo has a USB port and lets you stream music via Bluetooth from up to 33 feet away.
Victrola Jukebox (Retro, Full Size):
A real wood veneer nostalgic looking jukebox now comes with LED lighting, bluetooth technology, and 100 watts of full range high fidelity sound with 4 full range speakers, tweeters, and sub woofer.  This classic looking 50's Diner Wooden Jukebox stands 51 inches tall.  It has a 3 speed belt driven turntable that plays all your favorite vinyl records (33 1/3, 45, and 78 RPM).  Yet it comes with modern LED lighting in 7 bright colors, digital radio, and built in Bluetooth Connectivity for easy streaming of your favorite music.  It comes with 3.5mm Aux-In jack, a built in digital clock, and remote control plus adjustable equalizer with preset Rock, Pop, Jazz, Classic, and Flat.
Features:
3 Speed Turntable
100 Watts High Fidelity Sound
Full Range Speakers, Tweeters, and Subwoofer
Remote controls, digital radio, and CD player.
Bluetooth Technology
Retro color changing LED Lighting
Real Wood Veneer
Brighten up your home, office, or business with this replica styled jukebox.  This is the type of product that creates conversation with your guests and will provide high quality music and enjoyment for your party guests.  Make this a permanent feature of your home furnishings just as you might with a Grandfather Clock or painting.  Visitors entering the room will immediately notice and comment on this impressive looking product.
There is also a smaller, 15″ countertop version.
About Victrola
The company Victrola began in 1906 in Camden, NJ as the Victor Talking Machine Company.  It is currently owned by Innovative Technology.  At one point its Victor division was the largest and most successful turntable manufacturer of its time.  It later became the RCA company.  Victrola set the industry standards for music and sound quality in the late 50's and 60's.  Their jukeboxes were very common in restaurant diners across America.
Innovative Technology has grown to a collection of over 300 products sold in over 50,000 retail stores worldwide.  Their primary markets are gaming, amusement, vending, retail, and kiosk. Besides Victrola they produce a number of vending machine type products with handles and collects coins and dollars from a wide assortment of stand alone services.
Victrola Black Friday Deals: We expect to have all of the best deals on these hot gift products and nostalgic mementos that play records over the Thanksgiving weekend.
Victrola Cyber Monday Deals: Find all of the online sales on these bluetooth stereos and record players with a turntable for the Monday after Thanksgiving.
Last Major Update: