Halloween Haunted Houses
Funtober lists USA Halloween haunted houses in America for 2014.  This is the most current list of commercial and charity haunted houses on the internet.  Find fun October things to do at theme parks, haunted houses, haunted hayrides, haunted mazes, haunted trails, and a dozen other haunted attractions all listed by each state.
Find the location address, open dates, ticket prices, theme and haunted house links for nearby attractions.  What scares you?  If you want zombies, vampires, clowns, witches, snakes, or Freddy, Jason, and Michael haunts you will find it here.
Find Halloween haunted houses here in the state you live, a city near you, or a farm nearby.  Our guide provides wonderful information to help you choose one or more haunted houses to explore this Halloween 2014.  We like fun and nothing is more scary than some of the haunted attractions you can walk or ride through this year.  We have separate attraction links and listings for haunted corn mazes, haunted trails, haunted zombie paintball, haunted forests, haunted hayrides, Jaycees Haunted Attractions and ghost tours.  Probably a good reason there are only a few extreme haunted houses in the country.  Places where you can be touched, grabbed, and tortured.  We list these extreme haunts here.
State By State List of Halloween Haunted Houses
Here are the states where you will find Halloween haunted houses:
Some Basic Information About Haunted Houses
There are no refunds.  You are paying to be scared.  If you can not complete the attraction they have done their job.  Be careful with your medical conditions.  If pregnant, have a heart condition, or seizures you should not go through most Halloween haunted houses.  The screams are real and caused by extremely intense scenes.
The actors at most locations can not touch or grab you.  You can not touch an actor for any reason.  Costumes are not permitted at most locations due to safety and security reasons.  Consider the weather before you make a drive to any outdoor attraction.  In heavy rain the hayride or trail attraction might not be open that night.
Many Halloween haunted houses are complete entertainment attractions complete with stage shows, restaurants, carnival rides, paintball, lasers, go-karts and music.  These scream parks usually provide a variety of family fun.
Our ticket prices shown are the basic adult single attraction or combo ticket price.  Most haunted houses offer some V.I.P. or Fast Pass type of ticket for additional dollars to reduce your wait time.  Also we made no attempt to show discount coupon or children ticket prices.  In most adult night  attractions the children's price is the same.  Most discourage children under various ages.
You are about to enter what I hope is the most comprehensive list of haunted houses (and other Halloween haunted attractions) in the United States.  We aren't just talking haunted houses here.  You will be frightened in haunted hospitals (think insane asylums!), haunted warehouses, and haunted prisons.  Ghosts and scary creatures don't just occupy buildings, either. They've turned family friendly theme parks into bloody massacres.
We continue to update out information throughout 2014.  Please contact the haunted place as information may have changed since we updated.  We assume no responsibility for errors in the information.  If you find a mistake please use any of our contact forms to let us know.  Thanks.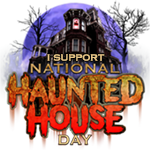 Latest Haunted House Posts from the Funtober Blog